Home
The Cat Terrace
... is a do-it-yourself window door system for your pet that offers the homeowner a simple and low impact alternative to traditional pet door installations.
Whether you choose to build The Window Cage or install The Window Door, you and your cats will enjoy the convenience and added outdoor freedom that the Cat Terrace will give you and your furry friends. Install either at your cat's favorite window for many years of enjoyment and fresh air!
Easy to Build
The kit includes all the door assembly hardware shown on the Kit Parts and Tools Required page. The supplied USB Flash Drive lets you view and print material lists, construction plans and see video demonstrations that make the Cage and Door easy to build. Minimum woodworking skills are required.
Construction of The Window Cage requires about $100 for materials from your local hardware store and 25-30 hours to complete.
Construction of The Window Door is very simple, requiring only about $15 for materials and 2-4 hours to complete.
The Cat Window Cage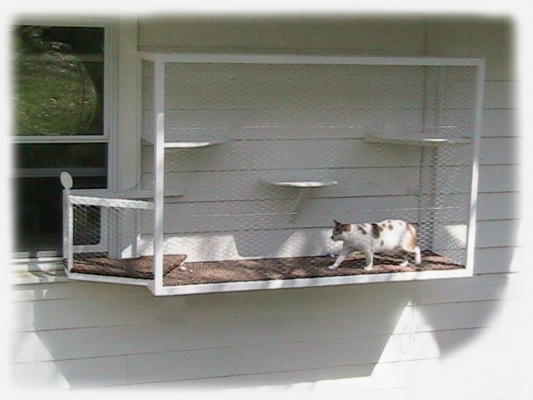 When building The Window Cage you'll get step-by-step video instructions that accompany the 12 instruction pages. The easy to follow plans and videos will have you and your cat(s) enjoying the new cage in no time!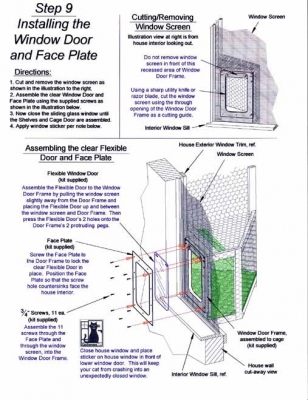 The Cat Window Door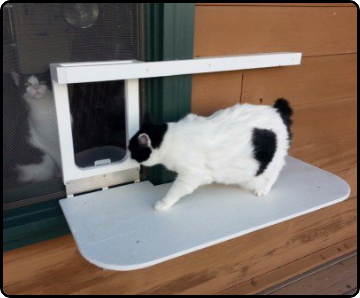 To build The Window Door refer to and print the instruction pages during construction and installation, page 2 of 3 shown below. They are easy to follow step-by-step plans that will have you completing it in just a few hours.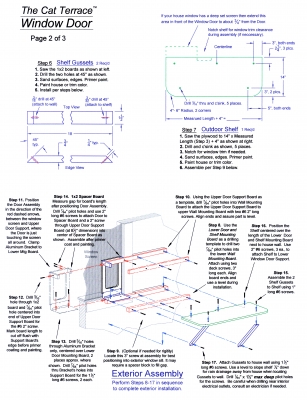 Key Advantages
The Window Door assembles to your window's fixed screen, no need to remove your screen as with other window door sash installations that render your window inoperable.
Simply open or close the window to give your cat access to the great outdoors.
With the cage there is no ground contact which minimizes parasites. It also limits physical contact with other neighborhood animals.
Weatherize the open window for year-round enjoyment, plans included.
​​Customize the cage size to fit your situation, the beauty of do-it-yourself!
NOTE: The Cat Terrace can not to be installed on crank-open windows