​​the-window-door
Designed to give your cat(s) or small dog(s) access to the Great Outdoors! You regulate their access by simply opening or closing the window. Weatherize the window for year-round use, plans included.​​
The Window Door eliminates having to saw a hole through your exterior door or wall as with most pet door installations. It also has a very low impact on your home, a few screw holes in your exterior wall and a door size hole cut in your window screen.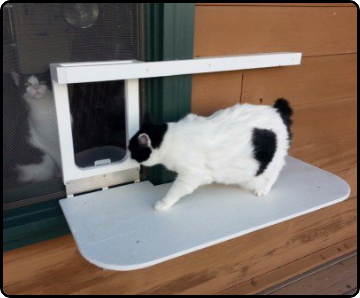 Construction of the Window Door is very simple, requiring only about $15 for materials and 2-4 hours to complete. Minimum woodworking skills are required and the tools needed to make the job easy are detailed on the Kit Parts & Tools Required page.
The kit includes a material list and 3 pages of easy-to-follow construction plans, page 2 of 3 is shown right.
Do this for your little friends
If our Window Door doesn't fit your situation, other traditional types of pet doors can be found on the web. Visit places such as Amazon.com, petsmart.com, petco.com, petdoors.com, chewy.com, etc…
Or just make a trip to your local Home Depot, Lowes, Ace or most other DIY/hardware stores, their choices may be smaller but you may find just what you need. Your little friends will thank you.