About Us
The Origin of the Window Cage
It started in the early 1990's when we got our 2 female Japanese Bobtails. They are considered exotic cats and we had to sign a contract agreeing that they would remain indoor cats. After a few years of training them to tolerate harness leashes for outdoor walks it was time to give them more independence.
My wife wanted me to build them an outdoor kittie run. Having been schooled as a mechanical engineer and designer I went right to work. I already had a "window" cage design in mind and ventured to the local hardware store to purchase what I needed. It took me 2 weeks to construct and install the first cage, pictured right. Our cats instantly took to it!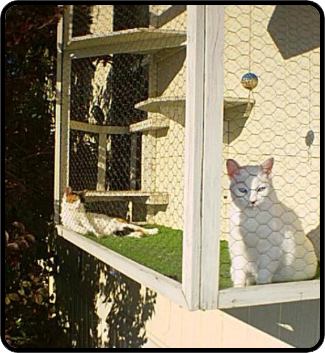 Sharing the Cage Design with you.
After seeing how much our cats enjoyed their new window cage I wanted to share it with other indoor cat owners. With the popularity of the home improvement stores I figured a DIY project was the easiest way I could offer it to the public. I spent a summer shooting video in my garage showing how to build the cage. While shooting the video it was apparent that I needed formal drawings to accompany the video so I made all the necessary illustrations on my computer.
One of the 12 illustration steps is shown at left . I spent that following winter editing the video and drawings into a do-it-yourself project. We recently made some plastic injection molds to produce the kit parts so we are ready to share this cat-popular cage with the rest of you. Your cats will love and thank you for their new cage!